The PWD™ kit includes: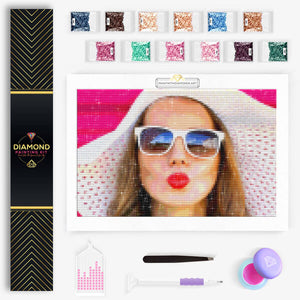 1 Premium Printed Branded Velvet Canvas
Poured Glue - Say bye to double tape
Small Sachets of numbered diamonds
Every Kit has 2 or more AB Diamonds
2 Trays for diamonds
1 Tweezer
2 Diamond painting pens
3 Piece Multi-diamond applicators
2 Pots of wax
Sizes bigger than 30x40 are Box packed
Premium Tools set
The Art of Diamond Painting
Diamond painting provides its enthusiasts with the luxury of exploring a lot of variations. For starters, there's special diamond painting kits, LED diamond painting and glowing in the dark diamond painting etc. The thing that stands out is the CUSTOM DIAMOND PAINTING that painting with diamonds offers.
Choose ANY photo from world-wide-web or your phone to place an order for custom diamond painting.
We'll convert your photo into a diamond art masterpiece.
2-4 Days (USA Shipping)
Paintwithdiamonds.art is a proud US Company. We have some diamond art kits in stock in USA and these are shipped from USA with 100% satisfaction guarantee. Check all available designs in USA.
What is Diamond Painting?
A Type of Painting that is done on a canvas using diamond-like beads as paint and diamond applicators are brushes. Other commonly used names for diamond-painting are diamond art, diamond embroidery & diamond cross stitch.
Square or Round Diamonds?
Square diamond kits are almost always full drill (Diamonds cover full canvas). Round Diamond kits come in full & partial drills. Most people prefer square diamonds over round ones.